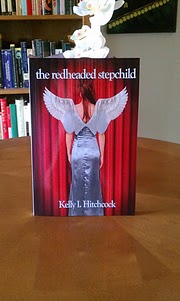 Do not adjust your TV – you are, in fact, seeing a paperback version of The Redheaded Stepchild.  Late last week, I received my proof copy from CreateSpace, which I quickly ripped open in the lobby of my apartment office.  I am ridiculously happy with the way it turned out – the back cover is amazing, and even the spine of the book is very slick.
The book itself is thinner than I expected it would be – but it's not super thin.  Having 12-point font and a 6×9 canvas probably reduces a little bulk that you'd typically find in a squatter paperback.  Most importantly, though, this means my #1 fans, all 5 of you, can get a paperback if you want one! They're available on the Amazon page, but also in the CreateSpace store, where I get a little bit of a higher cut, I admit.
So there you go, Grandma.  Now you can believe me that I do, in fact, have a book floating around out there.  Also, stay tuned for some exciting The Redheaded Stepchild news this Friday, the 13th.
Leave a Comment