It was a long, slow road from manuscript to shelf, but my publication day finally arrived on June 21, just 6 days after my 40th birthday.
I took the day off my day job to celebrate because, let's face it, it's not like I was going to get any actual work done… and if you can't take a day off to celebrate when you release a book into the world, when can you?! Here's how I spent my pub day…
Social media
I laugh in the face of people who say authors should spend 2-3 hours a day on social media, cause ain't nobody got time for that, but I definitely spent the first 3 hours of my pub day on social media. I was sharing pub day Instagram posts to my stories, interacting with post comments, posting myself to let people know the book was available, etc. I also started recording clips for a pub day reel, after I googled how to do it because I'm 40 and don't understand reels.
The gym
Most of my book takes place in a gym, so of course I had to take advantage of a weekday off to go to one of the classes typically reserved for stay-at-home-moms. I honestly can't remember the last time I took a gym class at 10 AM on a weekday (before pub day, I mean). Of course, I recorded video clips (before and after – I'm not one of those assholes who pulls out their phone mid-class) for my pub day reel.
Blogging
I wrote a post for my blog to announce my pub day. I also had 3 other blogs I had written guest posts for months earlier hit on pub day (thanks, but y'all could have spaced that out and done me a favor), so I wrote blog posts to share those as well.
Drinking in a pub
If there's ever a day to go day drinking in a pub, it's your pub day. I chose the Mean Eyed Cat in west downtown Austin because it's one of my favorites, I knew it wouldn't be busy on a Tuesday afternoon, and because I know they have Electric Jellyfish on tap.
Of course, I recorded more clips for my pub day reel and made a TikTok video because I'm still trying to figure out that platform.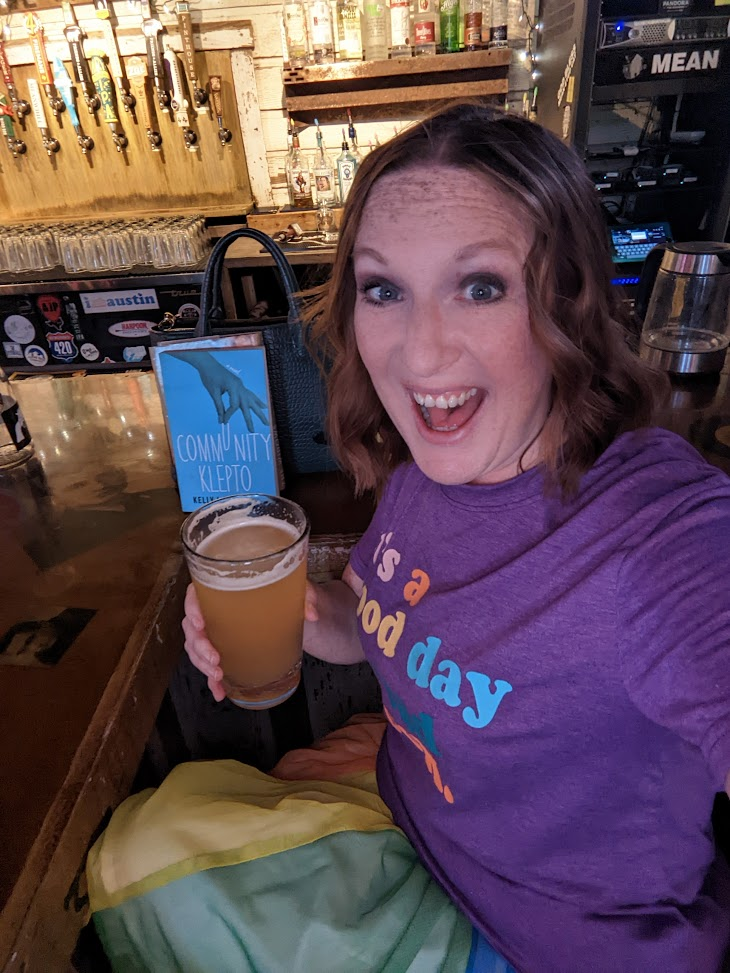 Visiting a bookstore
The Mean Eyed Cat was conveniently on the way to BookPeople – Austin's largest independent bookstore. I knew they had purchased some copies of the book because I had a preorder campaign with them, but I wasn't sure how many, and if they would be shelved yet.
Imagine my surprise when I strolled over to the fiction section and saw the cover of my own book staring back at me, shelved cover out! I was so excited (and feeling slightly buzzed from the pub) I asked the BookPeople staff to snap a picture of me… which I didn't like. So I took this one, wrinkles and all. Obviously I was still excited. And yes, then I recorded more reel footage.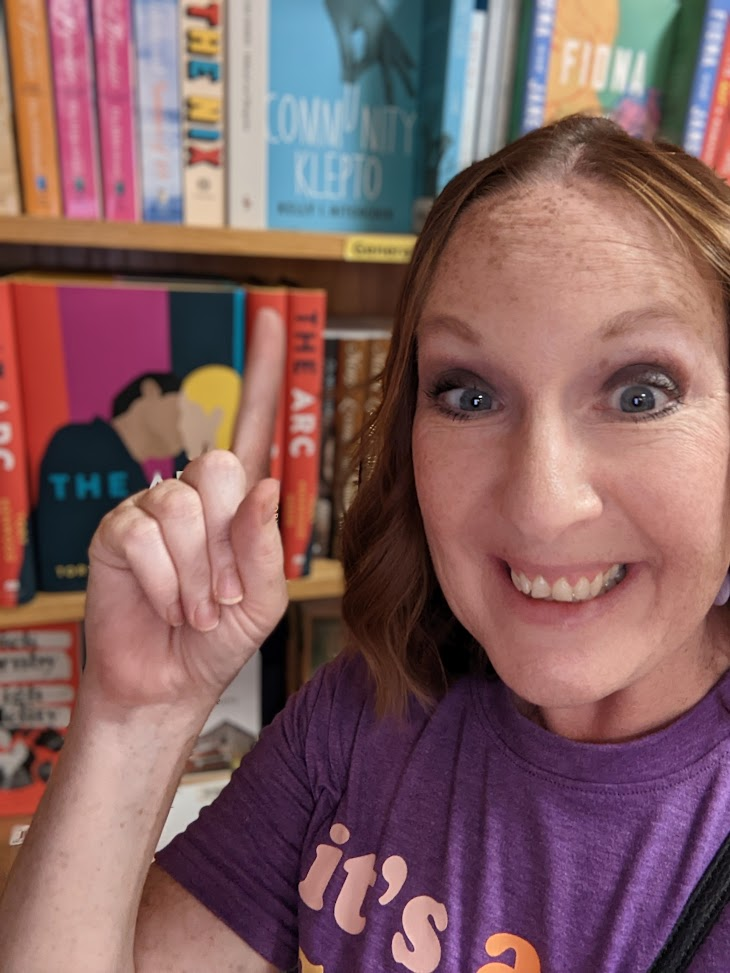 After the kids were in bed on the longest day of the year, I capped off the day's celebration with some wine and finished up my pub day reel, which I thought turned out pretty good. Certainly not a bad way to spend a Tuesday.
Leave a Comment