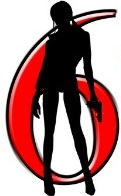 It's everyone favorite holiday, Tax Day!  I did mine back in February – sorry, suckers.  Today, I'm sharing with you an excerpt from my current work in progress (but not for long), Portrait of Woman in Ink: A Tattoo Storybook.  In this story we meet Sarah, a 38-year-old divorcee who's getting ready to get her first tattoo.
She'd decided on the Celtic scroll several years back.  Her family was originally Scot's Irish, a stark contrast to Jason's wealthy British heritage.  She looked at the sunlight pouring in though the patio doors in the home she'd made for herself.  Buying the place was like getting back to her roots, the roots she'd had before Jason had grabbed her by the hair and uprooted her.  It had taken a long time to get here, but she loved living simply, with a great new group of friends, a new career, everything he'd convinced her wasn't worth her time.  Now, if she could just get back to her old friends.
That's all for today. Since I'm stuck in sunny Miami – go ahead and check out all the other talented folks on Six Sentence Sunday for me!  My personal favorites… Carmen DeSousa, Wendy K. Russo, and Monica Enderle Pierce.