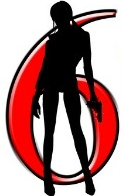 It's another Six Sentence Sunday, and happy summer to y'all! Today, we meet Jenna, the main character of the first story in Portrait of Woman in Ink: A Tattoo Storybook. Jenna is getting ready to get a tattoo with her father and sister, and is reflecting on her complicated relationship with her mother.
Jenna was a spitting image of her mother, especially in this photo, but the similarities ended there.  Her mom just didn't get her, and never had.  She didn't get why she'd want to go to college when she could marry her high school boyfriend and settle down in the picturesque Ozark hills.  Jenna thought those days had passed long ago; maybe it was why her mother was the only one in the photo who actually looked like she fit in the era they were simulating, who didn't look like she was wearing a costume.  If it weren't for the fact that she looked so much like her mom, she might've second guessed her parentage.  But not her father… he got Jenna, so much that he'd sacrificed his marriage to their mother to keep the kind of closeness they'd always shared.
Thanks for dropping by! Be sure to check out the other talented peeps at Six Sentence Sunday and drop them a line, too.