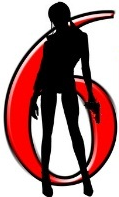 Welcome back to my 6-sentence snippet series from my book, Portrait of Woman in Ink: A Tattoo Storybook. Over the next 7 weeks, I will be sharing with you snippet from each chapter. (Click here to see last week's snippet)
Today we meet Alice, a social worker who finds herself getting tattooed with three of her best friends on a long girls' weekend, but missing the presence of the fifth member of their little group.
Sarah and Karen had always had their own inside thing going on, an inner circle within the inner circle, one the rest of them had always felt but denied existed.  Alice could still remember when Karen was introduced as the new girl in their Kindergarten class, after the Christmas break.  She'd followed them around on the playground until Sarah informed the group (they didn't have a name for themselves at that point) that it was too mean of them to keep ignoring her, and allowed her in.  Was it really possible to hold a grudge against someone for stealing your best friend more than twenty years ago?  Was that what bothered Alice about Karen so much?  Maybe the pain of the tattoo was just making her delirious.
That's all for today! Be sure to check out some of the other talented people over at www.SixSunday.com, and come back to visit next week!