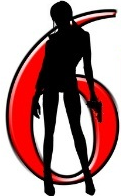 Welcome to another Six Sentence Sunday! Today's snippet comes from the "Hitchhike" vignette in my debut novel The Redheaded Stepchild.
Even in the blurry vision in front of me I could tell there was no wood paneling in this place. No ugly orange-pink flowers, no stiff brown shag carpet, no made-from-cardboard picture frames, no stacks of Lynyrd Skynyrd records, no made-from-pantyhose pillows, no Barbie dream houses made out of various shoe boxes with Tootsie Roll wrappers for doormats.  I bet Aunt Paulette never hitchhiked.
No, this was the real deal; this was what real city people lived like.  I decided that this was what I would have someday: a minivan with plush seats that drank the water from my soaking children's bodies like a towel when I picked them up from the pool, a finished basement with a large orgy of brand name toys on the floor.  And wallpaper that swallowed diamonds.
Want more than six sentences from The Redheaded Stepchild? It's available from Amazon and Smashwords for $2.99.
And be sure to check out the other talented authors at Six Sentence Sunday.