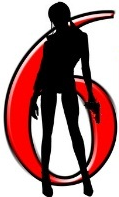 Welcome back to my 6-sentence snippet series from my book, Portrait of Woman in Ink: A Tattoo Storybook. Over the next 11 weeks, I will be sharing with you snippet from each chapter. (Click here to see last week's snippet)
Today we meet Lacey, a woman who's struggled for 4 years to sell the house that she owned with her ex-husband, the last symbol of her old life. She always said when she sold the house, she'd cover up the tattoo she got the day after she got married.
She'd always said she'd treat herself to a Betsey Johnson swimsuit when the house sold, but they'd announced a month ago that they were going out of business. By the time the house sold, she wouldn't have a chance. Oh well, it made a better early birthday present anyway, Lacey thought to herself, admiring the suit as she relaxed on the chaise. But the tattoo – she couldn't really cheat with the tattoo. If she covered it up now, it would only remind her that those last ties still weren't severed. For the millionth time, she pushed a familiar thought from her head… that it would never be over...
That's all for today! Be sure to check out some of the other talented people over at www.SixSunday.com, and come back to visit next week!