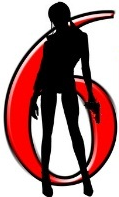 Welcome back to my 6-sentence snippet series from my book, Portrait of Woman in Ink: A Tattoo Storybook. Over the next 2 weeks, I will be sharing with you snippet from each chapter. (Click here to see last week's snippet)
Today we meet Megan, who's welcoming her brother home from the military for his first Thanksgiving in eight years, but when he comes home it's not quite the homecoming she expects.
Her eyes widened a mile.  She'd never once considered getting a tattoo.  Even if she had considered it, she never would have done it.  Just like her smoking, her parents never would have approved.  Even now, at thirty-one, going and getting a tattoo was about as likely as asking her mother to watch her German shepherd, Daggit, so she could go off and spend the night with her new boyfriend.  But looking at Nathan, buzz cut and broad-shouldered, she knew she was going to do it.
That's all for today! Be sure to check out some of the other talented people over at www.SixSunday.com, and come back to visit next week!