It's the last day of the year, which is when I try not to think about all the different ways I failed myself. Okay, not really. 2022 was a pretty great year, and I released a pretty great book that so far no one has hated (out loud, anyway).
Here's how I fared in 2022!
2022 Goals
Here were the goals I set out for myself for 2022. I think the big mistake I made was putting goals on here that were completely out of my control, but I still managed to meet half of them.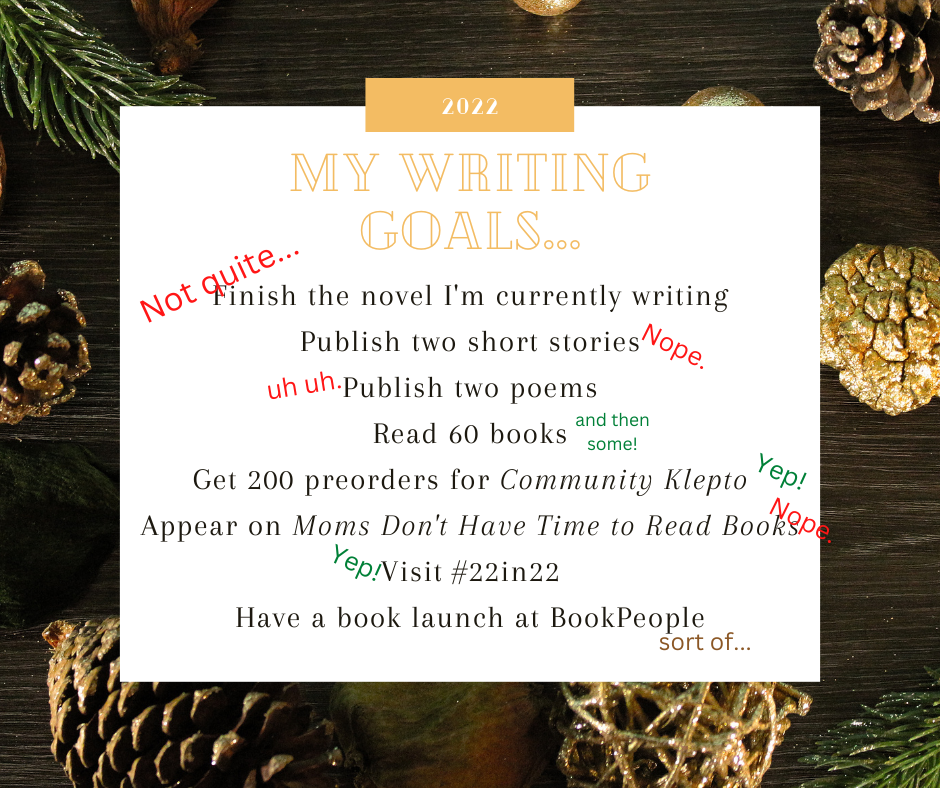 Finish the novel I'm currently writing
No, I didn't finish it. But I am well over 50% and my goal for 2023 is to get it done by June.
Publish two short stories
I honestly forgot I even put this as a goal. I submitted a few times but I honestly barely tried here.
Publish two poems
Same story.
Read 60 books
I didn't do 60. I did WAY more than that. But more on that later…
Get 200 preorders for Community Klepto
This was one of those things that was out of my control but I managed to do it anyway. Many, many of these preorders were libraries, which I would not have gotten without my positive Kirkus and Booklist reviews. But thanks to everyone who preordered my book!
Appear on Moms Don't Have Time to Read Books
When I put this as a goal, I thought it was attainable. I had written a couple essays for Zibby's blog already. Quickly, though, in 2022, the podcast featured more big names and celebrities and no one from my publisher appeared on it anymore. My publicist tried, twice, and we were shot down, twice. But I was still featured on a lot of other great podcasts.
Visit #22in22
I visited 28 different independent bookstores in 2022, and one of them I visited 18 times. My credit card statement can vouch for me.
Have a book launch at Book People
Book People offered me a book launch, but only on the condition that I could guarantee at least 50 attendees (they have people to pay; I get it). I am neither delusional nor optimistic to think that was possible, so they offered me a preorder campaign instead. My book launch at Bookwoman went really well, and I went on to have several solid in-person events, which I am so thankful I got to do.
Bookstores
I visited 28 different bookstores in 2022, across 12 different cities and 5 different states. I swiped my credit card 58 times. I visited Book People 19 times, even though I couldn't guarantee enough people to justify a book launch there. These were my top 6 favorite stores, in no particular order:
Lark & Owl Booksellers – Georgetown, TX
Reverie Books – Austin, TX
Country Bookshelf – Bozeman, MT
The Painted Porch Bookshop – Bastrop, TX
Boulder Bookstore – Boulder, CO
Prospero's Books – Kansas City, MO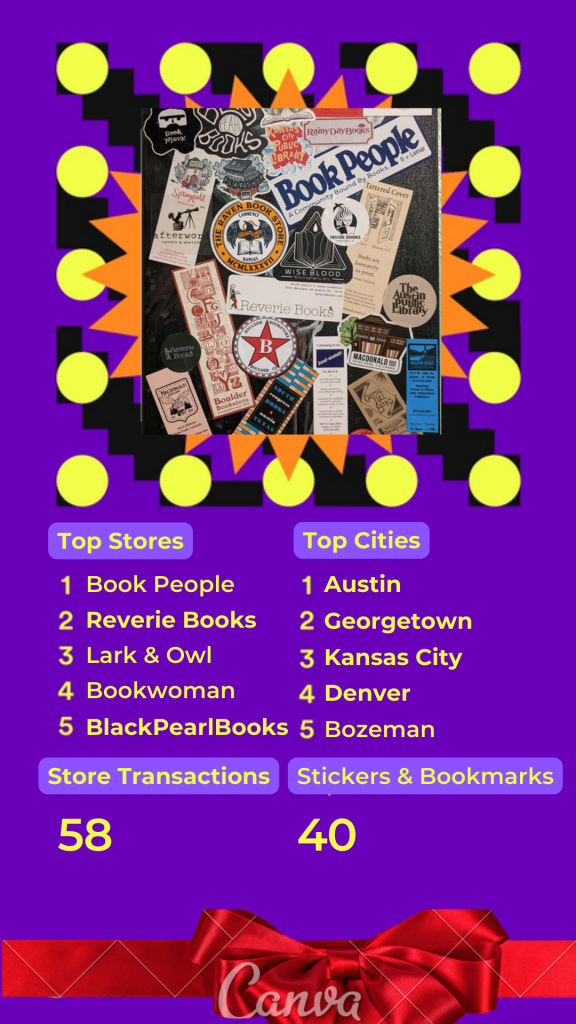 Reading
My Goodreads reading challenge goal for the year was to read 60 books, and I exceeded that by quite a bit! I somehow managed to read 110 books with only a handful of DNFs. There were so many good ones, but these were my top 10:
10. Unlikely Animals by Annie Hartnett
9. Crazy to Leave You by Marilyn Simon Rothstein
8. More Than You'll Ever Know by Katie Gutierrez
7. The Younger Wife by Sally Hepworth
6. My Summer Darlings by May Cobb
5. Our Missing Hearts by Celeste Ng
4. Feast Your Eyes by Myla Goldberg
3. The School For Good Mothers by Jessamine Chan
2. Yerba Buena by Nina Lacour
1. Tomorrow, And Tomorrow, And Tomorrow by Gabrielle Zevin
If you'd told me at the beginning of the year that my top book would be about two video game developers from California and New York, I'd have said you were crazy. But damn this book was good.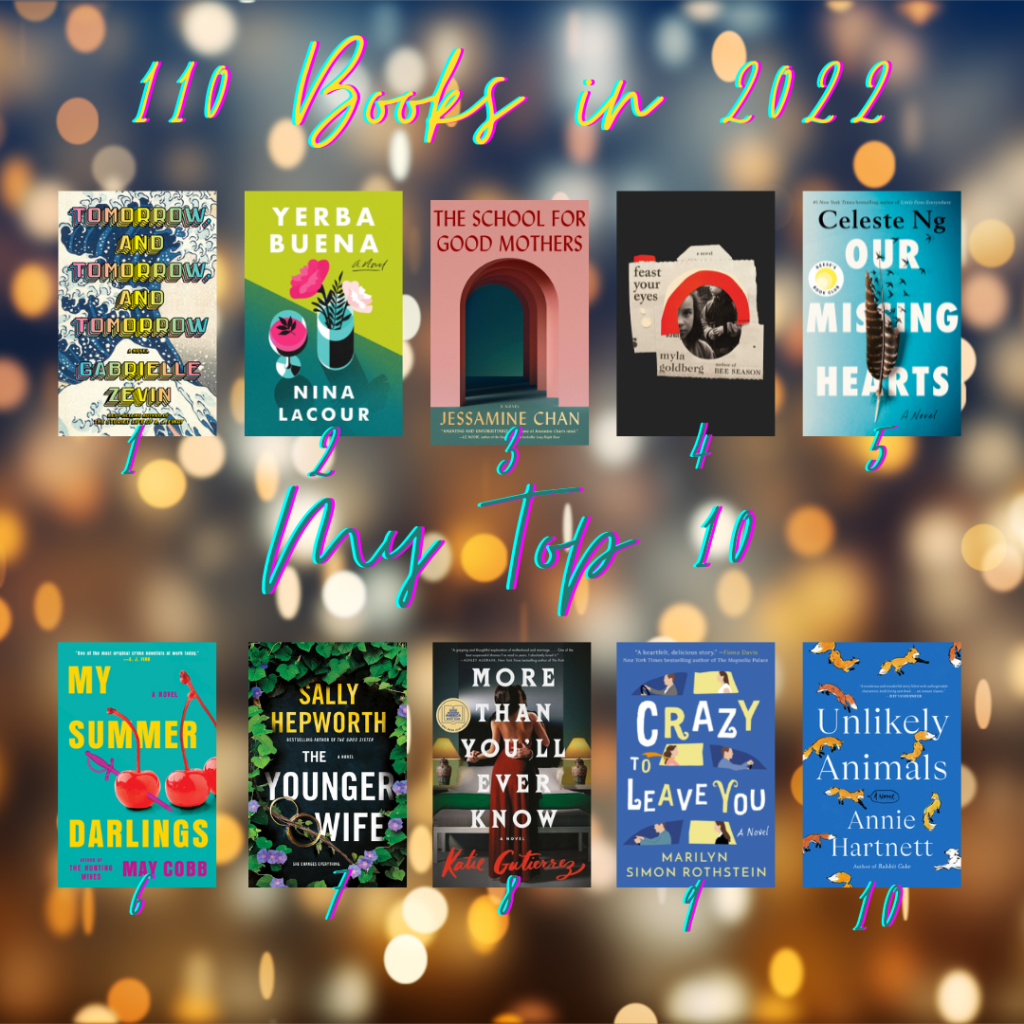 2023 Goals
I guess this means it's time to think about my goals for next year. My goal for the new book is to have the first draft complete by June, in time for the Writer's League of Texas Agents & Editors conference, where I hope to make some connections with agents and meet one of my other goals.
Instead of making a goal to publish short stories and poems, which I have little control over, I am going to make a goal to write them instead. And I read over 100 books this year, so it seems only fair to read at least 100 next year.
Happy New Year! Here's to a happy and productive 2023!