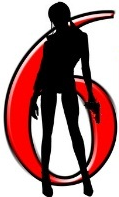 I have not fallen off the Six Sentence Sunday planet, I promise. Actually, I have been spending pretty much every spare minute editing the hell out of my new novel, Portrait of Woman in Ink: A Tattoo Storybook. Over the next 12 weeks, I will be sharing with you a 6-sentence snippet from this book, starting today.
Today we meet Jenna, a college girl getting her first tattoo with her sister and her father, the two closest people in her life. She has a complicated and tense relationship with her mother, who kicked her out of the house when she was growing up.
Jenna turned the corner to the narrow hallway that led to the house's single bathroom at the end of it, walking by a large tin type photo they'd taken at Silver Dollar City for Jenna's twelfth birthday.  They'd dressed them all up in olde tyme outfits, her father almost a spitting image of Jed Clampett.  Jenna sat on his knee in a bonnet and pigtails, the frilly frock they'd dressed her in gathered in a big pile of ruffles that fell well below her short legs.  Laura wore what looked like a christening gown even though she was nine years old, smiling softly under her bright white lace bonnet, her hand resting on the shoulder of their mother, the one Jenna struggled to call "Mom".  In the photo, she looked tired, probably from chasing two high-energy girls who constantly caused trouble when they were together around a theme park all day.
Jenna was a spitting image of her mother, especially in this photo, but the similarities ended there.
That's all for today! Be sure to check out some of the other talented people over at www.SixSunday.com, and come back to visit next week!